This event has already occurred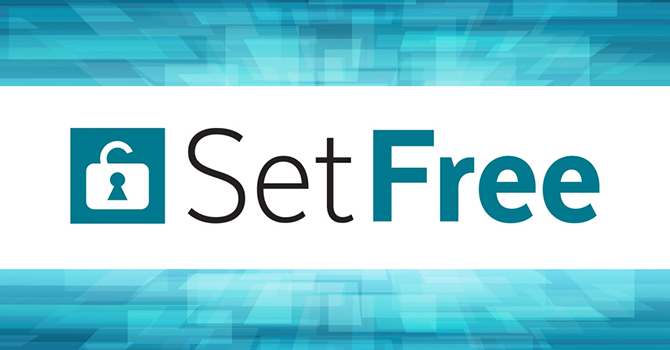 Save to your Calendar
We all have felt the brokenness of life. A tragic death in the family. Sin that keeps rearing its ugly head. An addictive substance or behavior that we just can't seem to get rid of. Relational brokenness. Lies that we believe or tell ourselves that are untrue. The inability to forgive someone, release someone or overcome something that pains us.
What do we do? How can we begin to address these things and heal? Where is God in all this?
Set Free is a catered retreat for women of all ages where you can begin exploring the freedom that Jesus has offered us, and begin to unpack and try some of the things He has asked us to do to be free. Learn some tools, learn some principles and experience and try it together. You will walk through this retreat with others (triads or quads) to discuss and try.
Session topics include:
1. Spiritual Reality – What is really going on? We know that people are made up of many different realities (mental, physical, emotional, sexual, etc.) and we need to pay close attention to those realities and properly care for them. But there is also a spiritual reality to each person and in this world. We need to pay attention to that and understand it because just as your physical health impacts the whole, so also your spiritual health impacts your whole as well. There is a spiritual reality that we need to pay close attention to.
2. Reality of Brokenness – What is it that is making me feel stuck, depressed, untrusting of others, angry…? Multiple factors could be at play, but let's ask God together what it is in our lives that is busted and in need of repair and healing. We live in a world where there is brokenness, so we need to be Jesus followers who are bold in our introspection and brave in the questions we ask God about why. Because He will show us.
3. Freedom & Healing – We will walk into multiple avenues of healing. We will talk through and try multiple tools for overcoming barriers and sin in our life. Jesus taught clearly in scripture about these things, so we will follow His lead and try it out! You may feel that you don't need this right now. Things are pretty good. That is great – but come and learn some tools so when you are discipling someone over coffee and an area of brokenness and pain arises, you will have some tools in your toolbox to help walk with them through it. Get equipped!
Facilitated by Pastor Larry Charter, Pastor Mike Poettcker, and Robin McColl, Domestic Violence Treatment Program Lead for Western Rocky View Family and Community Services.
SET FREE WOMEN'S RETREAT
Friday March 1: 6:00 - 9:00pm
Saturday March 2: 9:00am-4:00pm
Includes Saturday lunch as well as morning & afternoon snacks.
Located in the Creekside Room overlooking Bighill Creek.
Cost $25 per person. Register below by 8:00am on Tuesday, February 26.
Childcare is not available for this event. For more information, contact Pastor Mike. This retreat is presented by S.A.L.T. Women's Ministry.