Culinary Club with Chef Ronnie Milec
Culinary Club with Chef Ronnie Milec
Tuesday, February 20, 2018

Important: This event has already occurred.

West of Cochrane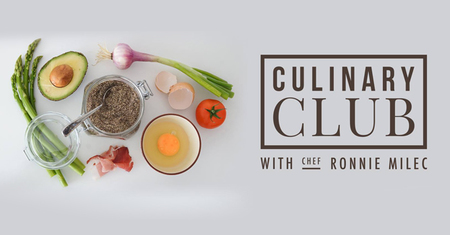 What Is Culinary Club?
Culinary Club is a place for those that love great food and meeting new people. Held in private homes, guests will have the opportunity to enjoy professionally prepared cuisine, while enjoying an evening centered around new food experiences and great company, for an extremely reasonable price.
How does it work?
Each Culinary Club gathering will feature a unique meal, and will be RSVP only. The total guest number of each gathering will be determined by the venue, and spots will be first come, first serve. Guests will have one on one interaction with Chef Ronnie, and are encouraged to glean cooking tips and techniques!
How much does it cost?
Pricing per person will be determined from gathering to gathering as various ingredients carry different costs. However it is Culinary Club's desire to make our experience as accessible as possible while keeping our food standard high.
This Culinary Club event
February 20, 2018
6:30pm Appetizers
7:00pm Dinner
Maximum Number of Guests: 30 guests. Adults Only (18+)
Location: Matt & Angela Dempster's home, located 5 minutes west of Kingsfold Retreat (30 minutes from Cochrane). Extact location will be shared with registered guests.
Cost: $20 per person payable via etransfer or at the dooor.
Registration:
The registration deadline has passed for this event.
Return to Events
---