What is Sunday School?
Sunday School is an opportunity for kids to connect with God, find their place in His big story, and respond to Him through the power of the Holy Spirit. It is a place for them to meet like-minded peers and build relationships with caring leaders who help guide them on their journey of faith and life.
What does it look like this year?
While most things have stayed the same, there have been some age group changes, especially among the preschool classes:
Birth to Kindergarten: Our nursery and preschool ministry allows parents to leave their young children in a safe and caring environment so they can more fully enter into the worship service. It also provides a place for preschoolers and kindergartners to explore through play and be introduced to the foundational truths that God made them, loves them, and is always with them. Children are separated into the following classes:

Sunshine Room - 0 years to crawling
Ladybug Room - walking to 2 1/2 years
Caterpillar Room - 2 1/2 to 3 years
Frog Room - 4 years
Butterfly Room - Kindergarten

Grades 1-4: In this ministry, kids are given a closer look at the Big God Story by captivating story tellers during Large Group time, and then invited by caring small group leaders to explore how they themselves are a part of it through hands-on activities and discussion.
Grade 5-6: In this small-group-style ministry, preteens meet in gender specific groups and explore how the foundational truths they've learned about God apply to what they experience at home, school and with their peers. They also learn how to articulate what they believe so they can share their faith with others.
How can I help?
There are a variety of roles that still need to be filled for this fall. We are looking for caring, committed leaders to join the team*. There are varying levels of commitment and types of roles. Contact Pastor Melanie Shaw if you are interested in helping in the following areas.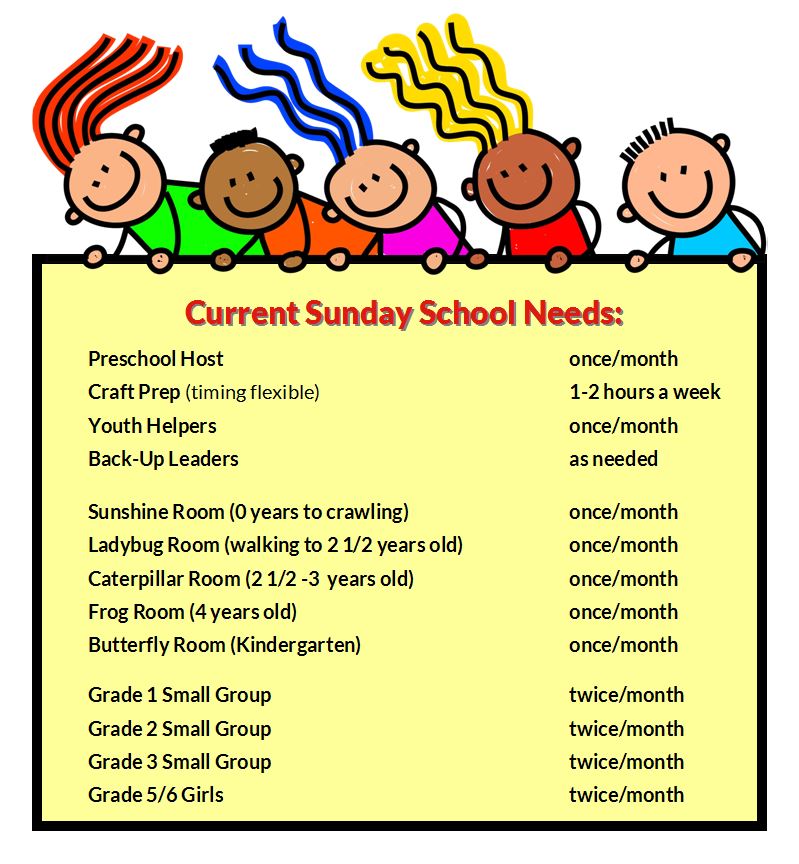 Curriculum is provided at all levels, and lessons for Grade 4 and younger are planned and prepped for you.
* A volunteer application form, reference check and criminal record check are required in order to be accepted as a volunteer according to our Plan to Protect® program. (No criminal record check needed for Youth Helpers).
Thank you for caring for our kids!