Unpacking Party
Unpacking Party
Sunday, August 20, 2017

Important: This event has already occurred.

8:00AM - 12:00PM
Cochrane Alliance Church, 902 Glenbow Drive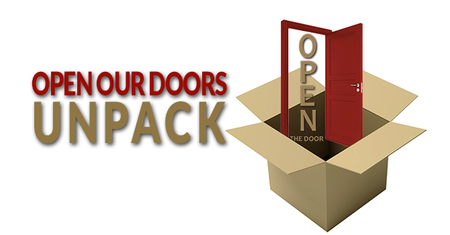 Our Open the Door adventure is nearing the end! As a church family, we're excited to be moving back into our newly renovated facility very soon! We're looking forward to great fellowship and camaraderie while we spend time together unpacking and settling in to our newly renovated facility!
Join us on Sunday, August 20, 8:00am - 12:00pm for an Unpacking Party!
Our projects for this work bee:
Empty the contents from our two large sea cans and parts of the garage to designated areas in the church.
Clean library shelving.
Clean and install large kitchen appliances.
Some items will require heavy lifting. There will be jobs for those who are unable to lift boxes, etc.
Mid-morning coffee and snacks provided.
We are looking for 50+ people as many hands make light work! Children age 10 & up are welcome to help us unpack but must be supervised by their parents. We cannot accommodate younger children for this work bee. Please RSVP below by 6:00pm Saturday, August 19.
More Unpacking Work Bees will happen August 21-25. For more info and to sign up, click here.
About Cac Open the Door
Return to Events
---