C&MA General Assembly 2018
C&MA General Assembly 2018
June 5 - 9, 2018

Important: This event has already occurred.

7:30PM - 7:30PM
First Alliance Church, 12345 40 Street, Calgary AB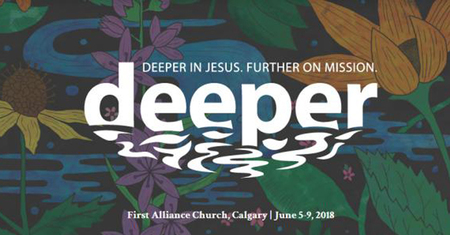 Deeper in Jesus, Further on Mission
General Assembly is a national gathering held every two years by The Christian and Missionary Alliance (C&MA) in Canada. This five-day gathering (June 5-9, 2018) is a fresh reminder of who we are and what our purpose is. It is a time when our whole community comes together, we breathe the same air, we fellowship, we spend time discerning corporately, and soak in the presence of God. It is a time to re-envision. General Assembly 2018 will be a powerful experience.
Our main theme for this season as a movement is Deeper in Jesus, Further on Mission. Our heart's cry is to be On Mission, Everyone, Everywhere, All the Time. Come, see, experience. It's going to be Christ-centred, Spirit-empowered and mission-focused. You don't want to miss it!
General Assembly is also the governing body of the C&MA in Canada, with delegates from churches across the nation meeting to discern and make decisions together. Please be in prayer for the delegates during this time.
You are invited to join with other Alliance churches across our nation at the evening sessions June 5-8 beginning at 7:30pm.
June 5 - C&MA President Dave Hearn
June 6 - Ron Walborn
June 7 - Rob Reimer
June 8 - Vijay Krishnan
Return to Events
---